When Windows prompts we are running low disk space on one RAID 5 partition, now we need to increase RAID 5 partition size in some way. Is it possible to take spare space from other partition to extend the partition? If so, how will we deal with it?
The answer is "Yes". We know that RAID 5 generally combines three or more disks in a way to protect data against any single disk and is becoming the most frequently-used RAID array for data storage because of the self-correct ability. And RAID 5 partition on Windows Server is able to help administrators for better data storage and hard disk management. But there are still some problems we need to resolve and the typical matter is to increase RAID 5 partition size, especially the system partition.
Generally speaking, once RAID is set with disk, it is usually difficult and troublesome to make changes. So how can we resize RAID 5 partitions as we desire when it runs out of space? Obviously, a third-party server partition manager such as MiniTool Partition Wizard which offers quite workable solution for partition extending is really needed.
Increase RAID 5 Partition Size with Partition Management Program
Launch MiniTool Partition Wizard, and we will enter the main interface right now. Now we can start the operation of enlarging the target partition.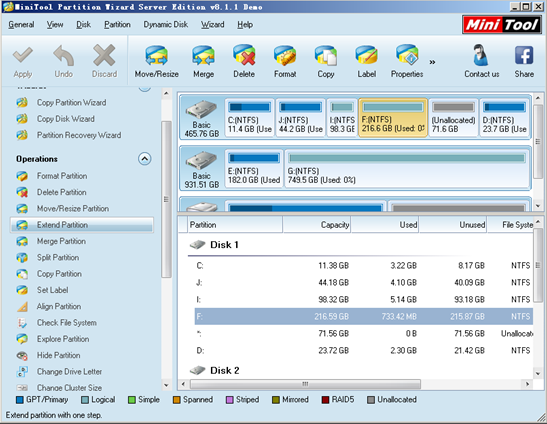 Firstly, select specified partition which is in low space, and click "Extend Partition".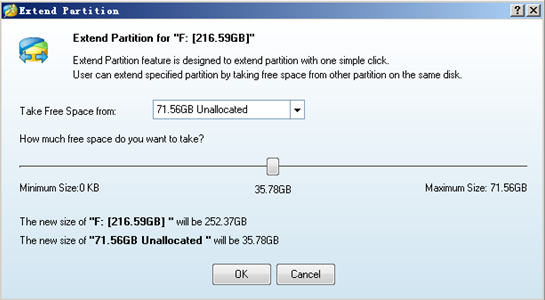 Secondly, choose a partition which owns spare space or choose an unallocated space from the drop-down list of "Take Free Space from:", which will be used to increase the size of the specified partition. And drag the sliding button to decide how much space will be taken. Then click "OK" to return to the main interface.
Lastly: click "Apply" to execute all changes.
As an outstanding server partition manager, MiniTool Partition Wizard enables us to increase RAID 5 partition size in a secure way with no data loss. Besides, this partition management program is qualified to split, shrink, merge and wipe partitions under Windows Server 2000/2003/2008/2012.