Low space occurs frequently on Windows Server system partition. And it's known that to enlarge partition is the best solution to deal with this matter. Though repartitioning Windows Server can enlarge the space of target partition, it is troublesome and time-consuming.
Usually it is hard and dangerous to enlarge partition for most Windows Server users, because some unreliable software may do harm to the data during the process of partition enlarging. Of course, resorting to a piece of server partition software is the best method to do partition management safely and easily, but the matter is how to find a workable and efficient server manager.
Here we would like to recommend MiniTool Partition Wizard, which is a professional partition management tool and has helped uncountable persons extend, shrink and merge partitions successfully. The server partition software, working quite well under Windows Server 2000/2003/2008/2012, enables users to enlarge system and extended partitions safely and efficiently with no data loss.
It could manage both Windows Server and Non-Server partitions. And users can perform basic and advanced operations on server without data loss, including: resize and move partitions, create and delete partitions, format partitions, hide and unhide partitions, set active partition, etc. Furthermore, any operation will be previewed before applying and all data are completely protected during all operations.
The following text will show how to enlarge partition specifically.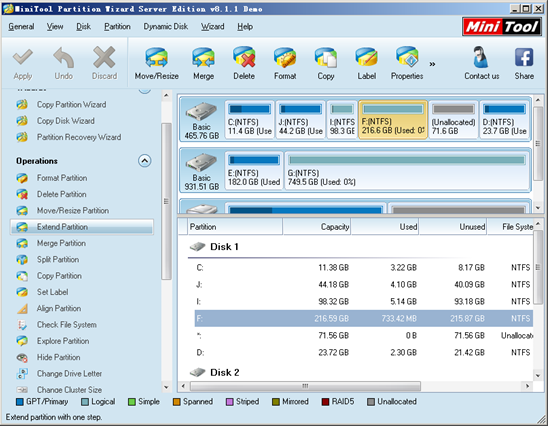 Step 1: select the system partition at first, and click "Extend Partition" to enter the next interface.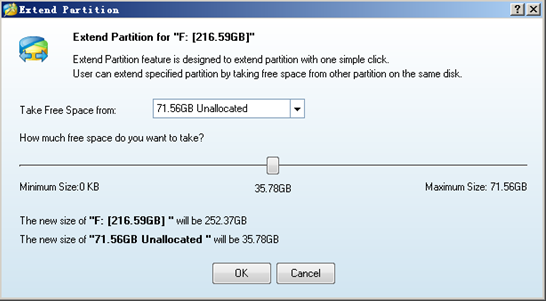 Step 2: choose a partition with more spare space or select an unallocated space from the drop-down list of "Take Free Space from:" to get some free space, which will be used to enlarge partition. Subsequently drag the sliding button to decide how much space to take. And click "OK" to return to the main interface.
Step 3: click "Apply" button in the upper left interface to perform all operations to extend partition.
Now, we can see enlarging partition is very simple with the help of the server partition software. Any one even these people who know little about server partition management can well master the skill of how to enlarge partition or other operations. More information about MiniTool Partition Wizard is waiting for you to have an experience by yourself.