As Windows SBS 2008 (Small Business Server 2008) users, we always encounter the following matter: the server is running unusually slowly because system partition is out of space; low disk space emerges. So how can we extend SBS 2008 Server partition?
Undoubtedly, we need to extend the partition to optimize the hard disk usage and improve the performance of the Server. Generally speaking, there are two ways for us to enlarge Server partition.
The first one is to resorting to Windows SBS 2008 Disk Management. Compared with SBS 2003, SBS 2008 can extend partition by its "Extend Volume" feature built in the Disk Management. But at the same time, the Disk Management owns a huge defect that it can't move partitions. In other words, the Disk Management can extend SBS 2008 Server partition only when there is unallocated space just behind this partition. Otherwise, we have to delete the partitions between the target partition and the unallocated space. This process is so troublesome. So we prefer to choose the second way.
The second way is to recurring to a professional third party server partition manager, which is always considered as the best solution for partition management. Certainly, this software must be formidable and easy-to-operate so that almost everyone can use it to do partition operations independently. MiniTool Partition Wizard can extend SBS 2008 Server partition safely and efficiently within several steps. Moreover, it is able to shrink, merge, wipe and split partition as well.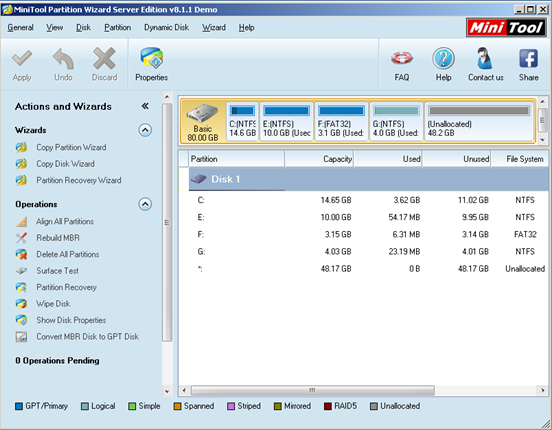 The above picture is the screenshot of its main interface. MiniTool Partition Wizard boasts clear operating interface and powerful functions for disk and partition respectively. Since it is designed specially, all operations are quite simple with the easy-to-understand instructions. For example, if we want to extend SBS 2008 Server partition, we just need to select the partition, click "Extend partition" option and do some further operations. But if we don't click "Apply", this change will not be performed totally. Therefore, the server partition manager is a safe program.